WATCH ON DEMAND
Even with the best antivirus and firewalls in place, attackers DO get in. When they do, how will you respond? You need to be able to respond quickly and shut them down. But more often than not, an attackers first point of infection is not the targeted machine, so responding to the initial threat quickly is crucial.

In the third and final part of our series, Sanat Chugh, Solution Architect at Cybereason, will talk through how to control the damage once an attacker has propagated through your environment.
In this webinar, learn about the benefits of automating remediation to quickly shut down threats, kill processes, and quarantine files.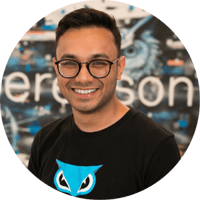 SANAT CHUGH
Solution Architect | Cybereason