Recently, Symantec announced they are no longer selling some of their endpoint protection products, leaving customers and partners wondering what their next course of action should be in order to keep themselves protected from cyberattacks. Since the acquisition of Symantec in September, Cybereason has received a flood of requests from concerned customers interested in making the switch to Cybereason.
Why Switch to Cybereason?
Many organizations that invested in Symantec solutions are feeling the stress of Symantec's acquisition because they are being forced to replace their existing endpoint protection products. Although not always wanted, the forced change is a good time to assess whether legacy solutions like Symantec are able to perform for businesses that are concerned with having to keep pace with incessant and ever evolving cyber threats. Legacy providers are often slow to make necessary security updates, can bog down daily business functions with high false positives, and are prone to introducing unnecessary IT complexity with multiple agents and burdensome CPU requirements.
At Cybereason, we make it easy for you to make this switch. We know keeping your business safe and running smoothly are your top priorities, which is why we simplify the process into three steps:
Test out the Cybereason Defense Platform by deploying agents to a subset of your network.
Find and see first hand the threats that Symantec missed and reap the benefits of an efficient, lightweight agent with a quick and easy installation.
Gradually shift off of Symantec at your pace depending on your need; in the end, you pick and go at your own pace.
Bolster Your Security: Replace Symantec with Cybereason Prevention
Prevent More Attacks: Upgrade your defenses with a new and innovative multi-layered approach: prevent both known and unknown threats like fileless attacks, stop ransomware immediately, block system and application exploits, and catch and stop malicious documents instead of using limited or signature-based solutions.
Reduce IT Complexity & Improve Performance: Eliminate the heavy load and avoid business disruption caused by legacy deployments that have multiple, disjointed and CPU intensive agents. With Cybereason, leverage a single, lightweight agent and install in a matter of hours. Help your security team become more efficient with streamlined workflows built by and for security analysts. Arm your security team with Cybereason's automated cross machine correlation across all impacted devices to get a single timeline of the attack, giving immediate resolution with single-click remediation.
Focus On What Matters Most: Legacy solutions cobbled together with multiple agents and screens force security teams to jump between alerts and manually string alerts together, all while filtering through unnecessary false positives. With Cybereason Prevention, you can get rid of the noise and let your team address true threats and remediate in real time, all within a single screen.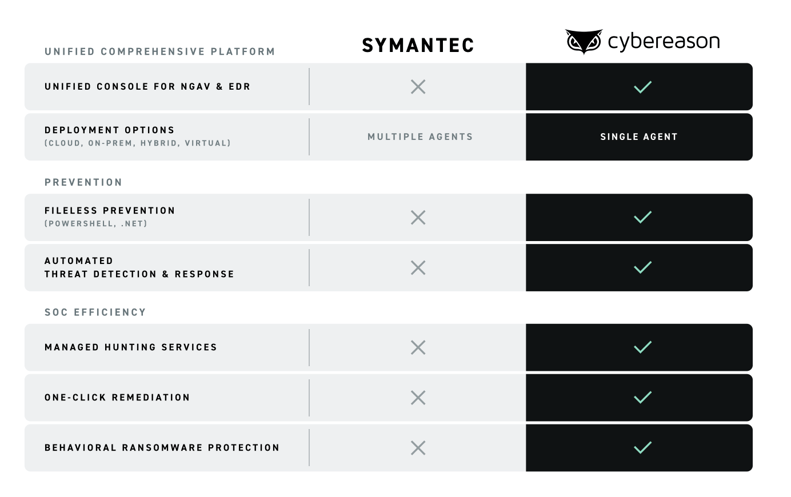 The Cybereason Prevention Solution
With Cybereason Prevention, leverage an advanced, multi-layered endpoint protection platform. The Cybereason Defense Platform has outranked competitors in multiple product evaluations, achieving an overall 'AA" rating and high rankings across several categories listed by the NSS Labs 2020 Advanced Endpoint Protection report.
Next-generation Antivirus: Cybereason uses signature-based *and* behavioral-based prevention that instantly blocks the execution of malicious files, including never-before-seen threats, to reduce risk and lower investigation times. Cybereason was the first to block malicious .NET attacks, fileless attacks, and even MBR-based ransomware, ensuring no data is compromised or encrypted during an attack.
Intuitive User Interface & Workflows: Cybereason's single interface lets you view, prioritize, investigate, and remediate alerts, allowing analysts to go further in fewer clicks without complex workflows.
Industry Low False Positives: Cybereason understands that in the never ending game of blocking and tackling, changing methods, and sheer volumes of attacks leveraged by malicious actors, that enterprises have to balance security with getting work done. To meet this challenge, Cybereason leverages innovative, MITRE ATT&CK aligned tactics, including behavior, to provide industry-leading protection without causing alert fatigue or business disruption.
Start the switch to an easier and more effective EPP today.