The Cybereason team is excited to have you join us at Black Hat 2021 on August 4th from 8:30AM to 5PM PST, and on August 5th from 8:30AM to 4PM PST! Stop by the "virtual" Cybereason booth and automatically be entered to win a Sonos Roam Speaker and other great freebies!
As a Titanium Sponsor, we invite you to attend some insightful and informative sessions with our subject matter experts covering everything from the workings of advanced RansomOps attacks to how XDR (extended detection and response) advancements allow Defenders to leverage Indicators of Behavior to detect and remediate against attacks faster.
You can also take this opportunity to schedule a 1:1 chat with a Cybereason Defender to learn more about how to leverage the advantages of behavioral detections to defeat never before seen attack methods earlier in the attack sequence. Learn how the Cybereason operation-centric approach moves beyond endless alerting to better protect organizations like yours from the endpoint, across the enterprise, to everywhere.
Everything Cybereason Happening at Black Hat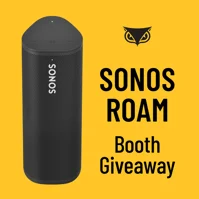 Everyone who visits the Cybereason virtual booth will be entered to win a Sonos Roam Speaker, with one lucky winner selected for each day of the event.
Book a meeting with a Cybereason Defender and you will receive a complimentary Cybereason Swag Bag with an assortment of fun and desirable goodies.
Featured Sessions with Cybereason Experts
Wednesday, August 4th | 10:50AM - 11:10AM PST
If you've been feeling critical about your company's ability to identify and defeat modern attackers, you're not alone. IT infrastructure, attacker trends, and workspace norms continue to shift, so it's an increasingly difficult challenge to build a resilient infosec program backed by tested best practices.
Presenter: Eric Sun, XDR Product Director
Wednesday, August 4th | 2:30PM - 3:00PM PST
The presentation will conclude with suggestions on what individual security practitioners can do when they encounter stalkerware, as well as what the security industry can do about stalkerware and tech abuse in general.
Presenter: Lodrina Cherne, Principle Security Advocate
Thursday, August 5th | 10:40AM - 11:20AM PST
Join leaders from Cybereason's Nocturnus and Incident Response teams as they explore insights based upon what is happening in the underground and first hand experience from what customers have encountered in the wild. Understand the evolution of modern ransomware tactics and how to better protect your organization from ransomware attacks.
Presenter: Lodrina Cherne, Principle Security Advocate
Thursday, August 5th | 10:50AM - 11:10AM PST
This session examines the emerging tactics, techniques and procedures leveraged by today's threat actors in conducting targeted ransomware attacks. Learn how these attacks can be detected and ended earlier in the attack sequence, long before the disruptive ransomware payload can be delivered.
Presenters: Cybereason CEO Lior Div and CSO Sam Curry
Thursday, August 5th | 11:40AM - 12:20PM PST
A foundational security milestone is protecting our global endpoints: the laptops, desktops, and servers that make up the backbone of our corporate environments. Endpoint Detection and Response (EDR) technologies can provide effective threat detection and protection, so why are we now hearing about Extended Detection and Response, or XDR as the latest new trend?
Presenters: Cybereason CSO Sam Curry and CISO Israel Barak, with Forrester Analyst Allie Mellen
Video on Demand: Indicators of Behavior (IOBs) as Proactive Attack Telemetry
On-demand video available within the virtual portal
Session examines why Indicators of Compromise (IOCs) are simply not useful for hunting novel threats. With advancements in telemetry analysis, we can be proactive in detecting subtle Indicators of Behavior (IOBs), which in isolation may be common but in certain combinations are extremely rare or present an advantage to attackers. We have the opportunity to create an open, extensible language to describe IOBs against frameworks like MITRE ATT&CK and develop an effective science for early detection.
Presenter: Sam Curry, Cybereason CSO
General Black Hat USA 2021
Information

can be found here:
Looking Forward to Seeing You Virtually!
We are looking forward to seeing you at this one of a kind virtual event, to sharing some fun and unique swag giveaways, and to bringing you the latest in expert insights into the ever-evolving threat landscape. Be sure to book a meeting with a Cybereason Defender to see how your organizations can detect advanced threats before they become a major breach event and how your SOC can accelerate investigations and ensure complete remediation across the enterprise.
The Cybereason Defense Platform combines the industry's top-rated AI-powered detection and response (EDR and XDR), next-gen antivirus (NGAV), anti-ransomware protection and proactive threat hunting to defeat known and unknown threats for best-in-class prevention, detection, and response across the network, cloud infrastructure and all productivity suites.
Let us show you how an operation-centric approach to security allows defenders to instantly visualize the complete narrative of a MalOp™ from root cause to every affected endpoint in real-time through multi-stage, deeply contextual correlations that deliver all of the details of an attack across all devices and all users immediately for unified protection from the endpoint, across the enterprise, to everywhere the battle moves.
See you at Black Hat 2021!