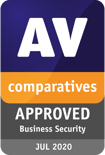 We are proud to announce the Cybereason Defense Platform has attained the AV Comparatives "Business Security" product certification! This independent 3rd party validation from an established and recognized security testing organization once again showcases how the Cybereason Prevention capabilities are able to help protect enterprises from both "Real World" and "Malware" based attacks.
In fact, according to AV Comparatives most recent Business Security test results, Cybereason has achieved excellent protection rates, for both Real World based and for Malware based cyber attacks. In addition to the outstanding protection rates, Cybereason Prevention had "very fast" performance testing for archiving, downloading of files, and browsing of websites ensuring end-users are not negatively impacted during their day-to-day business. Check out the most recent Business Security Report from AV Comparatives to get all the details on how Cybereason performed.
You might be wondering, why is this important? For us, it shows to the world all of the hard work we have put into our multi-layered prevention, which includes both behavioral-based and static protection. The certification shows to the industry that Cybereason Prevention prevents both known and unknown attacks from causing harm to our customers, all while minimizing business impact. The certification from AV Comparatives shows how Cybereason's ease of use in addressing potential threats via a visual timeline of the entire attack across ALL impacted devices, is key to preventing, addressing and remediating threats quickly. It also validates that the Cybereason Prevention solution is easy to install and reduces overall IT complexity for our customers.
"The ultra-simple and fast client deployment process means that even inexperienced administrators would have no difficulty getting the product up and running."
-AV Comparatives Business Security Report
For our customers, the certification from AV Comparatives further substantiates how they can leverage the Cybereason Prevention capabilities to protect themselves from advanced threats, all via a single agent deployment across multiple operating systems. Cybereason Prevention is truly multi-layered and helps to protect customers from a wide array of cyber attacks with the following capabilities:
File-based malware protection << AV Comparatives Malware Protection Test
Fileless malware behavioral prevention << AV Comparatives Realworld Protection Test
Anti-Ransomware
Exploit Protection
Document Protection
Device Controls: Firewall, USB, Disk Encryption Monitoring
The AV Comparatives Business Security Certification highlights how the Cybereason Defense Platform is able to provide Prevention capabilities to protect enterprises of all sizes. When you combine Cybereason Prevention with our award-winning Endpoint Detection and Response capabilities, as well as cutting edge Threat Hunting and Analytics, your organization is able to have complete endpoint protection.
"Cybereason's management console is easily navigated from a single menu. We were impressed with the clear, well-illustrated way in which information is laid out…"
-AV Comparatives Business Security Report
To find out how your enterprise can leverage the Cybereason Defense Platform to protect your organization from the latest cyber attacks, please contact us and start the conversation today!