We spent some time with Katie Nickels - current Director of Intelligence at Red Canary and formerly MITRE ATT&CK Threat Intelligence Lead - to discuss applied threat intelligence, prioritizing threats for impact, and working incident response in remote environments - check it out...
About Katie Nickels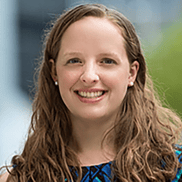 Katie Nickels (@likethecoins), Director of Intelligence at Red Canary, has worked in Security Operations Centers and cyber threat intelligence for nearly a decade, hailing from a liberal arts background with degrees from Smith College and Georgetown University.
Prior to joining Red Canary, Katie was the ATT&CK Threat Intelligence Lead at the MITRE Corporation where she focused on applying cyber threat intelligence to ATT&CK and sharing why that's useful.
Katie is also a SANS instructor and has shared her CTI and ATT&CK expertise with presentations at many conferences as well as through Twitter, blog posts, and podcasts.
Ever Evolving Video Series
The Ever Evolving video series features select guests from across the security field who are happy to share some of their insights and expertise with the larger Defender community - stay tuned for more!
#WeAreTheDefenders